That man loves freedom. Some friends and I have this meme, where when we see someone doing something awesome, we say, "That man (or woman) loves his freedom!" Clearly, this applies to guys with bad-ass mustaches, but also to basically anyone who goes against the grain.
When you see a guy in a beat-up pickup truck cut off a guy in a BMW, that guy loves his freedom. That's why freedom is this elusive thing.
[ad]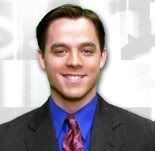 This guy, on the other hand, looks like he hates freedom. I don't know who he is, but I did a Google Image search for "this guy hates freedom" and he popped up (you know, to give a counter example). In any case, he is doing exactly what he should be doing. And that is not what freedom lovers do.
In any case, I'd love to know who loves freedom, and who hates freedom. It will be an interesting social experiment. Leave comments, and post pictures.
I, for one, love my freedom.
</tongue-in-cheek>