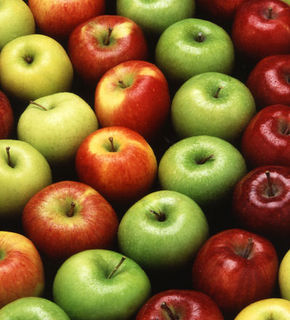 In the next installment of my recipe series, here is my apple ale recipe, which I am calling New England Apple Ale. I wanted to make a full-bodied beer, that made you think of apples (and cider, and apple pie). I wanted this to hold its own as a beer first, rather than a beer-cider hybrid, or a sickly-sweet fruity beer. I think I pulled this off.
The apple notes are strong, but they are balanced by the toasty notes from the roasted barley. The cinnamon and nutmeg in this recipe are dialed down from the last iteration of this beer I brewed, and I think that helps a lot. It still reminds you of apple pie, without completely being one.
This recipe took 3rd place in the 2008 Sam Adams Tour Center homebrew contest.
Read on for the full all-grain recipe.
[ad]
This is for a ~5 gallon batch.
Grain Bill
8 lb 2-row Pale Malt
2 lb White Wheat
1.5 lb Crystal 60
.5 lb Roasted Barley
Hopping schedule
1 oz. East Kent Goldings 5.5% Alpha Acid for 60 mins.
.5 oz UK Northdown 6.5% Alpha Acid for 15 mins.
Also
1 tsp. Irish Moss for 15 mins.
1/2 Gala apple, sliced up, in the hopback
When Racking to Secondary
.5 Tbs Cinnamon
.5 Tbs Nutmeg
1 Gallon Organic Apple Cider
Notes
The specific gravity when the wort went into the primary was 1.060. When I racked it to the secondary (before adding the cider), it was 1.022. The specific gravity of the cider was 1.051. I'm not sure why the fermentation stalled so early; but I suspect the low fermentation temperatures in my basement. I forgot to take a reading when I bottled, so I don't know how much alcohol the cider added, but I imagine it re-started the stalled fermentation, since it didn't finish too sweet.
Be sure you read through the whole recipe before starting (though you made it this far, so why am I mentioning it?). You will want to be sure that your secondary fermenter has enough room for the 1 Gallon of cider you will be adding.