On a recent backpacking trip to Yosemite National Park, I decided to experiment panoramic photos. There are so many astounding views from the heights above Pate Valley and the Grand Canyon of the Toulomne, I was hoping to capture at least a fraction of that beauty with my camera.
Now, I don't have a fancy camera, it is just a Sony Cybershot DSC-N2
point & shoot variety. Don't get me wrong, this is a great little camera; it is very compact goes anywhere, and takes great photos.  (I have been thinking of getting a nice DSLR soon, though, for my landscape/nature photography.)
[ad#Google_Adsense_banner]
So, I started by putting my camera in manual mode.  For this process, you are going to take several individual shots, with each one overlapping the previous one a bit.  You need to make sure the exposures on these shots are as close to each other as possible.  So, put it in manual mode, and find an F-stop and shutter speed setting that will give a good balance of light throughout the panorama.  It will help if there isn't really anything in the foreground of the panorama, since that can cause the software we will use to stitch together the whole image to get confused.
Then, hold the camera in portrait mode (the tall way), and snap the first photo at one side (for the sake of this example, lets pick the left) of the whole panorama. Make note of where the right-hand edge of this first photo is (ie. pick out a tree, or contour on the rock, or something).  Next, move the camera to the right, so that at least 10% of the next shot overlaps with the previous one.  Take this picture, and repeat until you have the building blocks of your panorama.  You should end up with something like this:
Now, forget about panoramas for the moment, and enjoy the rest of your hike.
When you get home, download Hugin.  Its a free download for Mac and Windows.  There are also packages available for most Linux distributions.  Follow the instructions that some with the download to install it, and don't forget to install the Control Point Generators.  The instructions for that will also be bundled with the download.
For the most part, I had good luck just using the Assistant in Hugin.  It is a wizard that steps you through the process of creating a panorama, and uses the default values when it can.  It should detect the focal length of your camera's lens from the metadata encoded in the images.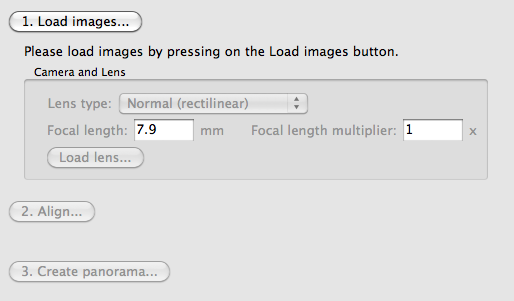 I am not really sure what to put for the Focal length multiplier, but a value of '1' seemed to work well for me.  (There are a lot of options in this software that I don't understand, so I just accepted the default values.)
Then, I just stepped through the rest of the options, and out popped this panoramic shot:
Here are all of my results: